Managing finances together is an important feature many people find appealing, especially couples. This article outlines how couples (groups) can share data and manage finances together.
The first step to sharing data is to create a Sharing Group. The group can consist of family members or trusted friends.
1. Create a Sharing Group: To create a group of friends, go to More > Group Sharing, and select the create group icon as shown below.
Enter the name of your group and click OK. Congratulations! You have created the group successfully.
It is now time to invite members to the newly created group. Adding someone to the group is as simple as clicking the below icon.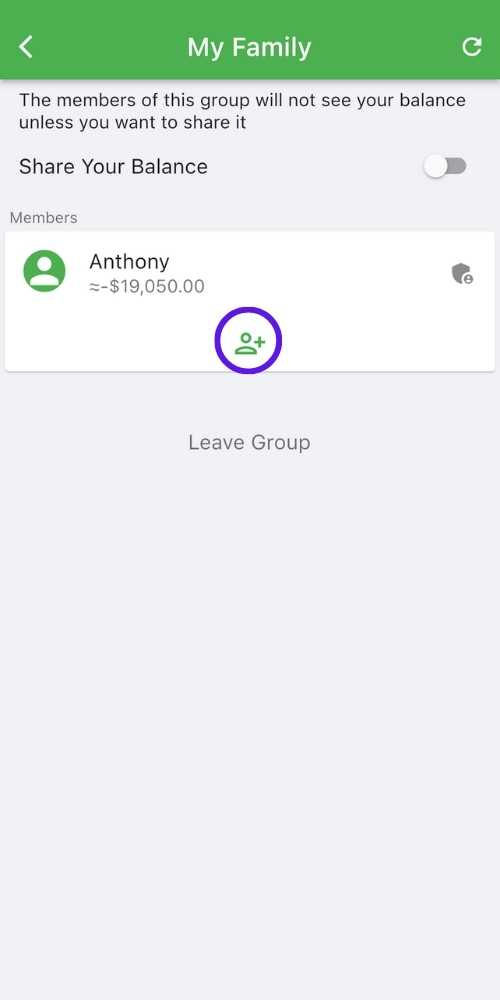 To accept the invitation, the invitee scans the QR code on the QR code screen.
Show Balance: Allow or disallow your team members to view your wallet balances.
2. Share a transaction with the group: By default, when you create a new transaction, it is shared with the current group. You can choose not to share or change the group.
To change the default group, tap on the name displayed in the upper left corner of the wallet screen. To keep transactions private, select your name from the displayed groups.
You have successfully shared the transaction with the group.
Video tutorial for sharing transactions with the group
3. Create a budget for the group: You can create a budget and set a spending limit for the group by going to the Budgets screen and selecting Add Budget. Under the Wallets field, select All Wallets or the people you want to track spending. Under the Categories field, select the categories of all the people.
Video Tutorial for creating a team budget
4. View the group's financial report: In the Reports screen, you can view the reports for specific team members by selecting their names from the Wallets field.
Video tutorial for viewing financial reports of a group
Check out some other tutorials:
Smiley Budget & Money Manager is one app for all your finances. You can track income, expenses, savings, debt, revenue and expenditure planning, cost control, bill payment reminders… You can download the app on iOS hoặc Android.